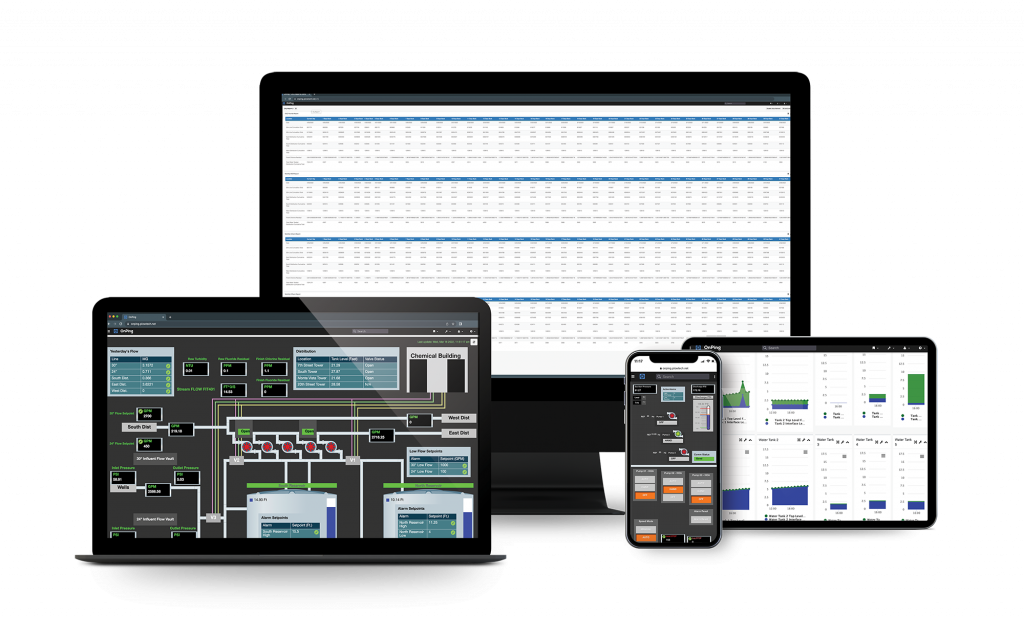 This is OnPing
OnPing is a suite of data and device management tools designed to make interacting with industrial machine data easier, accessible and customizable to unique workflows. The OnPing Automation Platform has been designed to be universal in its communications, and provide a safe exchange point for the various devices and systems across your operations and enterprise to bring all of the data of your operations into one place and in one format. Once the data is in the OnPing platform it can be visualized, transformed, responded to or sent anywhere desired. The OnPing platform also provides a whole suite of tools like visual HMI screens, trending data visualizations, alarming, scripting, reporting and more to utilize this information to make transformational decisions that provide real world value.
The OnPing Difference
OnPing was designed from the ground up as a complete system. We have developed both the hardware and software of a platform that pairs our Lumberjack, a highly flexible, low cost edge computing device, with an advanced, distributed cloud based management platform and interface. The Lumberjack runs our own LAS (Lumberjack Application System) Software to provide features like remote application and protocol deployment, local scripting, network management and advanced data continuity management. It works seamlessly with OnPing to provide a platform with the reliability and seamless data of on premises, server based SCADA systems and the mobility and user customizability of modern, cloud based, software as a service.
The central design idea behind OnPing's data systems and interface is to build a strong framework and allow for a wide range of customizability. There is frequently not a rigid answer for the best way to solve an organization's data challenges and the goal is to provide a set of powerful tools that can be used in innovative ways and in combinations to provide unexpected solutions that perfectly match with the desires of a specific customer. We frequently see tools employed in brand new ways and that is exactly how it is intended.
The Philosophy of OnPing
What OnPing 'Is'
OnPing is a platform to bring together the elements of modern automation systems and make them useful to all units of your enterprise in the way each needs it. OnPing is designed to be a user customizable, low code set of tools to facilitate communication, automate processes and provide insight and intelligence to make better decisions.
All Devices, All Protocols
OnPing brings the devices of your network into a common environment and provides the common language to allow them to speak to each other. Regardless of manufacturer and age, a device discovered and brought into OnPing becomes native to the automation management platform and takes advantage of complex interactions, custom scripting, data archiving, trends and statuses. OnPing provides an environment for your devices, people and operations to communicate and thrive.
Automation for everyone, not just the engineers
OnPing brings the devices and data, spread across your enterprise, into the hands of the individuals that power progress. OnPing is designed to be customizable and to give its users the tools needed to create anything they can imagine, to find the answer to any question. OnPing has a set of low-code, user-friendly tools that with minimal effort can be used to create custom solutions for many different types of workflows.
' Where Automation Lives '
The reason for all of this, the purpose of OnPing is to provide a place where the automation of your organization 'lives'. In a modern enterprise connected devices increase massively, year over year, quarter over quarter. Organizations who take the management of these devices seriously will have a competitive advantage over those who do not.