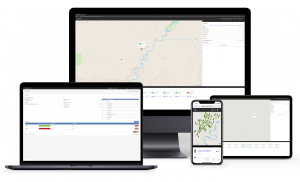 We are very happy to announce the full roll out of OnPing's new mapping feature. With OnPing Maps we set out to create a tool in keeping with OnPing's mission to offer powerful, customizable and ultimately useful tools that add real value for our users.
OnPing Maps is so much more than a navigational tool. OnPing users can create multiple layers for the map based on Custom Tables in OnPing. Create a table and fill it with any data, text or links you'd like. You can then designate any column to act as the 'name' for your mapped sites. You can also select any other columns of information you'd like to appear in the 'more info' table within the map itself. Perhaps the most unique feature, you can also select any column to assign icon rules to, resulting in map markers that respond to data changes or key words. Select an icon or color change to indicate things like voltages, pressure levels, flow rates, etc.
A green bell (in the example below) can be used to show a working comunications system, a red one is used to show a communications failure, indicating service or trouble shooting may be needed. Operators or field personnel can see these statuses very quickly for numerous distributed sites and respond by clicking the site to get directions to the facility or to access more information. Rules can be set to change color, change icon, or both, making a near infinite number of combinations possible. You can even use text-based rules, words like 'fuel' could result in a gas pump icon, whereas the word 'office' would result in an icon of an office building.
As with any new feature, we'd be happy to help you set up your first map. Some data entry may be needed if your sites do not currently have GPS coordinates added. Call or email your customer service representative for more info.
Contact us at info@plowtech.net for more information about OnPing Maps