Introduction #
Alarms are frequently used in automated systems and are one of the most important features for many Users. This reference guide walks through the format of the Alarms Page in OnPing so that Users better understand how to utilize Alarm features.
Alarms are composed of several features, including:
Alarm Creator

This page is used to create and configure Alarms

Alarm Log

This page stores and displays information about Alarms available to the User

Call Order

This page is used to create, configure, and organize Call Orders.

Calendar
Finding the Alarms Page #
Alarms are a Static feature in OnPing. Unlike Widgets, which can be placed on Panels or removed from Dashboards, Static features are located on a fixed page. For many Users, Alarms is a bookmarked location.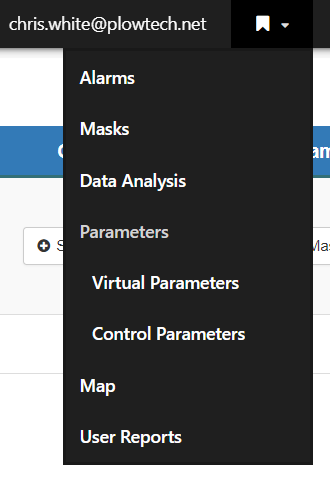 Selecting the 'Alarms' option from the bookmarks will bring you to the Alarms management section of OnPing. By default, Users will land on the Alarm Creator page.
In the navigation menu on the left side of the Alarms page, you should see a set of Links to useful Alarm Pages: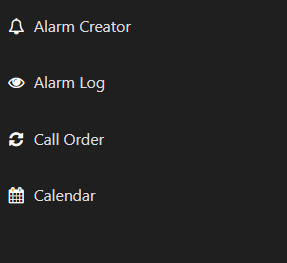 Alarm Creator
Alarm Creator is the Alarm editing tool for OnPing. This page is where Alarms are built, configured, and stored.

On this page, Users can:
Create Alarms
Configure Alarms

Set Call Orders to determine recipients of Alarm messages
Edit custom 'Alarm Names' to better inform Alarm recipients of the situation
Toggle 'Clear Call' on or off
Set User 'Permissions' to control who can edit or access Alarm setting information
Manage the Alarm 'Mask'
Assign 'Parameters' to Alarms

Activate or Deactivate Alarms

Mass Activation and Deactivation is available

Review Alarm Settings

The 'Existing Alarms' section is filterable by Site, Location, Group, Company, or Call Order
Find 'Conponents' of any Alarm in a User's 'Permission' level

Review current 'Call Orders' assigned to each Alarm
Alarm Log
The Alarm Log page tracks Alarm activity for Users.

Alarm data may be filtered through Site, Location, Group, Company, or Call Order combined with a time frame to search through. Users can review basic Alarm settings and Call Order information for Alarms in the logs, but this is also where information about how often an when Alarms have been tripped.
Alarm data logged includes:
Call Count
'Trip' and 'Clear' activity
Call out recipients
Time of Alarm activity
Select the best window for the set of Alarms in Review, then find a summary of the results at the bottom of the Alarm Log page.
Call Order
The Call Order page is where Users can create and manage Call Orders for Alarms.

This page contains:
Available Call Orders

A list of each Call Order currently Available to be assigned to an Alarm

Unassigned User List

A list of every User that can be assigned to Call Orders

Active Call Order

A list of each Call Order currently assigned to an Alarm

Groups and Permissions

Once a Call Order is selected, Groups and Permissions reveals the aforementioned data regarding the selected Call Order
Calendar
The Calendar page shows which Users are available and when – as long as the schedules have been stored in OnPing.

In the Calendar page, select a Group and User to view their schedule. Calendar works well with Call Orders to confirm Alarm callouts are going where the information can be acted upon.
Summary #
OnPing has a robust Alarming system built in to platform. This document is intended to provide new Users with a navigational guide to the OnPing Alarming environment. Please, contact an OnPing representative if you have questions regarding Alarms not answered in the available guides.